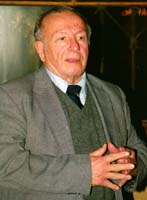 Background:
This Croatian-American trained social worker and Christian activist has helped every falsely accused "war criminal" -- from Frank Walus to Dr. Arthur Rudolf to Mr. Bartesch. He was of immense help to John Demjanjuk. Due to the tireless work of this saintly man, Walus and Demjanjuk won their cases in the end. Brentar spent almost $500,000 of his own funds to help pay for the lawyers' fees, translators, flights, hotel accommodations, meals, and witness fees. He lost his once thriving travel agency because of the vicious publicity engendered, and now lives at the edge of poverty in forced retirement on his social security pension. Researcher, advisor and witness in Ernst Zündel's 1985 Holocaust trial.
Repercussions:
His reputation tarnished and his company boycotted, Brentar lost his livelihood for saving a man from the noose.
Writings:
Jerome A. Brentar. "My Campaign for Justice for John Demjanjuk," The Journal of Historical Review, volume 13 no. 6 (November/December 1993), p. 2.